My Blog
Posts for: February, 2021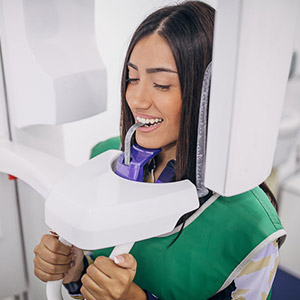 When dental implants hit the scene in the 1980s, they revolutionized the field of dental restorations. But as groundbreaking as they were then, they're even more advanced now.
Some of the advancements have to do with improvements in implant design and manufacturing. Implant sizes and shapes were once quite limited, but today they come in a variety of forms to better match the types of teeth they replace.
But there has also been important progress in complementary technologies that help us realize better outcomes. Many of these other advances have had a positive impact on the planning and surgical stages of implant installation.
CT/CBCT scanning. For the best outcome, it's critical to install an implant at the most appropriate location on the jaw. This can be difficult to determine, however, because of the location of oral and facial structures like nerves or sinuses that might interfere with implant placement. But using a type of computer tomography (CT) scanning called cone beam CT, we can produce a 3-D computer graphic image that helps us navigate possible obstructions as we pinpoint the ideal location for an implant.
Digital smile displays. We're now able to produce digital models of the mouth, which can assist with more than implant placement—we can also use them to visualize what a new smile with implants will look like before we install them. This is especially helpful in situations where only a few teeth need to be replaced: We want to ensure that the new implant crowns blend seamlessly with the remaining teeth for the most natural appearance.
Custom-made surgical guides. We've been using surgical guides to mark the exact drilling locations during implant surgery for many years. But 3-D printing technology can now help us produce surgical guides that are even more useful and precise. Using a 3-D printer, we can produce oral devices based on the patient's individual dental dimensions captured through digital scanning. That produces a better fit for the guide on the teeth and more accurate implant placement.
Together, these and other technological advances are helping us achieve even more successful results. Not only can they help us produce implant outcomes that can last for years or even decades, but also the most beautiful smiles possible.
If you would like more information on dental implant restorations, please contact us or schedule an appointment for a consultation. You can also learn more about this topic by reading the Dear Doctor magazine article "How Technology Aids Dental Implant Therapy."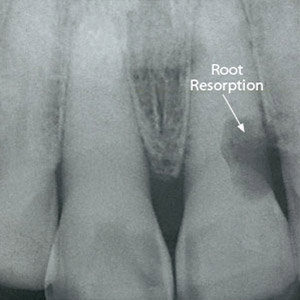 Most dental problems are caused by tooth decay or periodontal (gum) disease, easily preventable with dedicated daily hygiene and regular dental care.  But there are a few other rare conditions to be on alert for that could pose just as serious a threat to your dental health.
One of these is a phenomenon called root resorption. Put simply, certain cells arise within a tooth root that eat away and dissolve (resorb) tooth structure. Left unchecked, it could eventually lead to the tooth's demise.
Although its exact cause remains elusive, we suspect root resorption is associated with trauma to the gum ligaments earlier in life, perhaps from an injury or too much force applied during orthodontics. Other possible contributing factors include teeth-grinding habits or internal tooth bleaching procedures.
Root resorption in adults isn't that common, so your chances of experiencing it are low. But it is still possible, so you should be on the lookout for potential signs: Early on, it may appear as faint pink spots on teeth where the enamel has filled with the destructive cells eating away at the tooth. In time, these spots can increase to form cavities.
More than likely, though, your dentist may detect the problem during a dental exam. That's why regular dental cleanings and checkups are essential—a routine exam is a prime opportunity to uncover conditions like root resorption that silently undermine your teeth.
If found early, we can often treat root resorption effectively. We can often expose a small affected area with minor gum surgery, remove the harmful cells and fill any cavities with a tooth-colored filling. In some cases, we may recommend orthodontics beforehand to encourage a buildup of bone around the root by moving the affected tooth outward from the jawbone. If the resorption has affected the tooth pulp, you may also need a root canal treatment.
There is also the possibility with advanced resorption that the best course of action is to remove the tooth and replace it with a dental implant. So, keep up your regular dental visits—early detection and intervention can stop this destructive dental condition from destroying your tooth.
If you would like more information on root resorption, please contact us or schedule an appointment for a consultation. You can also learn more about this topic by reading the Dear Doctor magazine article "Root Resorption: An Unusual Phenomenon."