My Blog
Posts for tag: root canal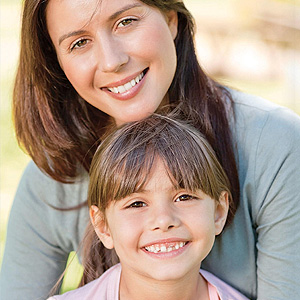 It's often best health-wise to preserve even the most troubled tooth—including a child's primary ("baby") tooth. If that sounds like too much effort for a tooth that lasts only a few years, there's a big reason why—if it's lost prematurely, the incoming permanent tooth above it could erupt out of position.
Preserving a decayed primary tooth could include procedures similar to a root canal treatment, commonly used in adult permanent teeth with inner decay. However, we may need to modify this approach to protect the primary tooth's pulp. This innermost layer plays a critical role in early dental development.
Because an adult tooth has reached maturity, removing diseased pulp tissue has little effect on its permanent health. But the pulp contributes to dentin growth (the layer between it and the outer enamel) in primary and young permanent teeth, so removing it could ultimately compromise the tooth's long-term health.
Our goal then with a child's tooth is to remove as much diseased tissue as possible while involving the pulp as little as possible. What techniques we use will depend on how much of the pulp has become infected.
For example, if decay has advanced to but hasn't yet penetrated the pulp, we may remove all but a small amount of the decayed structure just next to the pulp to avoid its exposure. We may then apply an antibacterial agent to this remaining portion and seal the tooth to curb further infection.
If on the other hand the pulp has become infected, we may try to remove only the infected portion and leave the remaining pulp intact. We'll only be able to do this, however, if we deem the remaining pulp healthy enough to remain infection-free after the procedure. If not, we may need to remove the entire pulp as with a traditional root canal. This option, though, is a last resort due to the possible effect on dentin growth and the tooth's long-term health.
As you can see attempts to preserve a primary tooth can be quite involved. But if we can help it reach its full life span, it could mean better dental health for a lifetime.
If you would like more information on caring for primary teeth, please contact us or schedule an appointment for a consultation. You can also learn more about this topic by reading the Dear Doctor magazine article "Root Canal Treatment for Children's Teeth."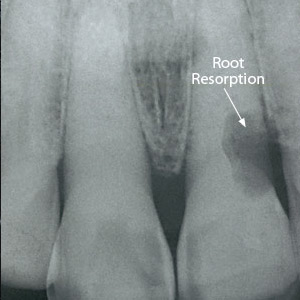 As a new permanent tooth develops, the roots undergo a process of breakdown and growth. As older cells dissolve (a process called resorption), they're replaced by newer cells laid down (deposition) as the jaw develops. Once the jaw development ends in early adulthood, root resorption normally stops. It's a concern, then, if it continues.
Abnormal root resorption most often begins outside of the tooth and works its way in, beginning usually around the neck-like (or cervical) region of the tooth. Also known as external cervical resorption (ECR), the condition usually shows first as pink spots where the enamel is being undermined. As these spots continue to erode, they develop into cavity-like areas.
While its causes haven't been fully confirmed, ECR has been linked to excessive pressure on teeth during orthodontic treatment, periodontal ligament trauma, teeth-grinding or other excessive force habits, and bleaching techniques performed inside a tooth. Fortunately, ECR is a rare occurrence, and most people who've had these problems won't experience it.
When it does occur, though, it must be treated as quickly as possible because the damage can progress swiftly. Treatment depends on the size and location of the resorption: a small site can often be treated by surgically accessing the tooth through the gum tissue and removing the offending tissue cells. This is often followed with tooth-colored dental material that's bonded to the tooth to replace lost structure.
A root canal treatment may be necessary if the damage has extended to the pulp, the tooth's interior. However, there's a point where the resorption becomes too extensive to save the tooth. In these cases, it may be necessary to remove the tooth and replace it with a dental implant or similar tooth restoration.
In its early stages, ECR may be difficult to detect, and even in cases where it's been diagnosed more advanced diagnostics like a CBCT scanner may be needed to gauge the extent of damage. In any case, it's important that you have your teeth examined on a regular basis, at least twice a year. In the rare chance you've developed ECR, the quicker it's found and treatment begun, the better your chances of preserving the tooth.
If you would like more information on root resorption, please contact us or schedule an appointment for a consultation.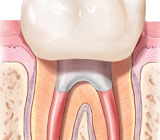 According to popular culture, a root canal treatment is one of life's most painful experiences. But popular culture is wrong — this common treatment doesn't cause pain, it relieves it. Knowing the facts will help alleviate any anxiety you may feel if you're scheduled to undergo the procedure.
A root canal treatment addresses a serious problem involving the pulp of a tooth that has become infected. The pulp is a system of blood vessels, nerves and connective tissues inside the tooth that helps the tooth maintain its vitality. It also contains a series of minute passageways known as root canals that interconnect with the body's nervous system.
The pulp may become infected for a number of reasons: tooth decay, gum disease, repetitive dental procedures, or traumatic tooth damage. Once the pulp becomes irreversibly damaged it must be completely removed from the tooth and the root canals filled and sealed in order to save the tooth.
We begin the procedure by numbing the affected tooth and surrounding tissues with local anesthesia and placing a dental dam (a thin sheet of rubber or vinyl) over the area to isolate the tooth and prevent the spread of infection to other oral tissues. We then drill a small hole in the top of the tooth to access the pulp chamber. Using special instruments, we then remove the infected or dead pulp tissue through the access hole and then wash and cleanse the root canals and pulp chamber with antiseptic and antibacterial solutions.
After additional preparation, we fill the root canals and pulp chamber with a filling especially designed for this kind of treatment, usually a rubber-like substance called gutta-percha that easily molds and compresses when heated. We then seal the access hole with a temporary filling (until a permanent crown can be fashioned) to prevent infection from reentering the pulp space. After the procedure, you may experience some minor discomfort easily managed with over-the-counter pain relievers.
You'll find the root canal treatment alleviates the symptoms prompted by the pulp infection, particularly acute pain. What's more, a successful root canal will have achieved something even more crucial to your health — it will give your tooth a second chance at survival.
If you would like more information on root canal treatment, please contact us or schedule an appointment for a consultation. You can also learn more about this topic by reading the Dear Doctor magazine article "A step-By-Step Guide to Root Canal Treatment."